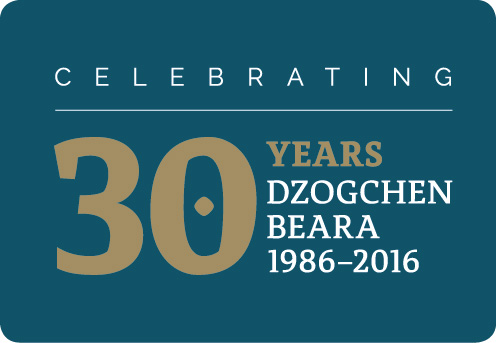 This year we celebrate 30 years since the first Summer Retreat with Sogyal Rinpoche, author of The Tibetan Book of Living and Dying and our Spiritual Director – pictured above with Ringu Tulku Rinpoche (left) and Ato Rinpoche (right). The following brief history of Dzogchen Beara is written by Andy Fraser for an article in the forthcoming issue of View.
In 1973, Peter and Harriet Cornish visited the wild and beautiful Beara peninsula in the south-west of Ireland, looking to find a site where they could establish a centre for meditation. There they discovered a deserted farm spanning one hundred and fifty acres and perched on a clifftop with panoramic views over the Atlantic Ocean. They decided to purchase the land and make it their home.
By 1986, they had built a large central house and six smaller ones, constructed roads, installed electricity and water, and planted fifteen thousand trees. It was at that point that they invited Sogyal Rinpoche to visit, and in July that year he led the first weekend retreat, returning to teach again a few months later. The following year Rinpoche was asked to become spiritual director of the centre, and he gave it the name Dzogchen Beara.
In 1992, Peter and Harriet offered the land and buildings to Rinpoche and Dzogchen Beara became a charity, hosting its first large international retreat. The following year, Harriet died of cancer at the age of 44. The story of her death and how she was cared for inspired a culture of spiritual care at Dzogchen Beara that has become its hallmark.
For many years Dzogchen Beara welcomed people living with terminal illness or going through a crisis in their lives, often accompanied by family members or carers, for periods of rest and reflection in the cottages overlooking the ocean; and 2009 saw the opening of the Spiritual Care Centre, which welcomes people for care breaks and specially-designed courses, as well as support groups for those who are living with illness, disability and loss. The Care Centre is also a home for Rigpa's Spiritual Care Programme, training professionals of all kinds from the fields of medicine, mental healthcare, social services and education.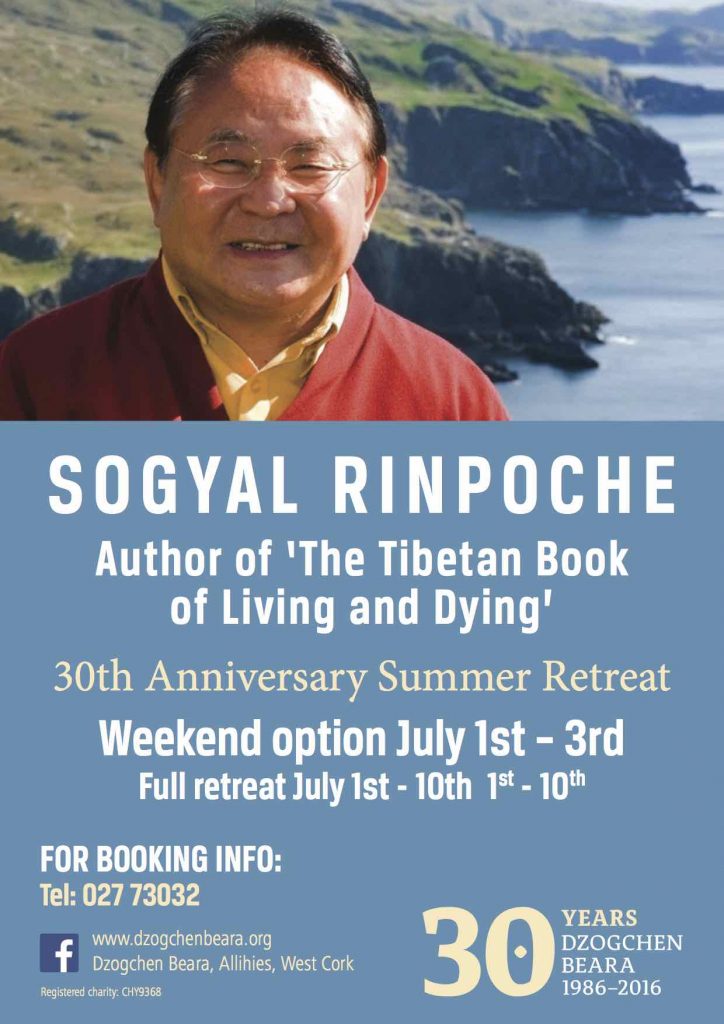 Over the past three decades, many thousands of people from around the world have visited Dzogchen Beara and a growing number of Buddhist practitioners have settled in the area. The centre has served as Rigpa's long-term retreat centre, providing the perfect conditions for people to focus on practice in an environment of deep stillness and seclusion.
In addition to the annual retreats led by Sogyal Rinpoche, many eminent Buddhist teachers have given teachings and empowerments, including Dodrupchen Rinpoche, Dzogchen Rinpoche, Garje Khamtrul Rinpoche, Jetsun Khandro Rinpoche, Jetsun Kushok Chimey Luding, Garchen Rinpoche, Ato Rinpoche, Tulku Pegyal Rinpoche, Dzigar Kongtrul Rinpoche, Ringu Tulku Rinpoche, Tulku Thondup Rinpoche, Chagdud Khadro, Sharon Salzberg and Alan Wallace (and Tsoknyi Rinpoche will be next to visit in November 2016). Khandro Tsering Chödrön visited Dzogchen Beara in 1988 and Mayumla Tsering Wangmo, Sogyal Rinpoche's mother, has stayed there on a number of occasions.
Dzogchen Beara is a groundbreaking place in so many ways. In addition to its unique Spiritual Care Centre, it is also home to Ireland's first ever Buddhist stupa, which was established by Tulku Pegyal Rinpoche in 1997. In 2006, Father Laurence Freeman became the first Catholic priest to celebrate Mass at a Buddhist centre in Ireland. The next step in this remarkable story will be the construction of a traditional Tibetan temple, which will be the first Buddhist temple in Ireland and is due to be completed in October 2017.