In response to the current worldwide coronavirus crisis, Her Eminence Jetsün Khandro Rinpoche has recorded a special series of teachings on a famous Mahayana Buddhist text entitled Turning Suffering and Happiness into Enlightenment, which is now available as video on demand.

This extraordinary teaching shows us how to transform and draw the very best out of the experience of both suffering and happiness, and use it for our ultimate benefit and the benefit of others.
Having to cancel plans to teach at several Rigpa centres this Spring, Khandro Rinpoche kindly accepted an invitation to share this series of teachings which are so relevant for this time.
Rinpoche, who is one of our spiritual advisors, has generously directed that the income from this event goes to support Dzogchen Beara and Lerab Ling (Rigpa's other retreat centre, in France), as we face a dramatic loss of income due to closure because of the pandemic. We are immensely grateful to Khandro Rinpoche for this offering.
How to Connect
8 hours of teachings are available as video on demand, until 31 August.
These teachings are given in English with translation available in French, German, Spanish and Italian.
After registration you will receive an email with a code to access the teachings.
We're very aware that many people are facing similar financial difficulties so there is an option to pay a reduced contribution for this event.
Click here to read the full text of 'Turning Suffering and Happiness into Enlightenment'.
Other Online Materials from Dzogchen Beara
Follow us on Facebook to keep up-to-date with our growing programmme of weekly online events, including guided meditations and mini-retreats, and to keep informed as we add new content to YouTube. Updates also on Instagram.
Dzogchen Beara is glad to offer these videos and audios free to all: If you can support this offering with a donation, please do so here. 
Community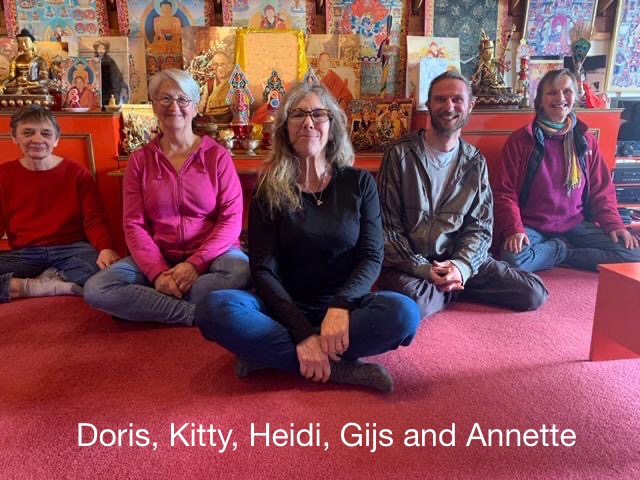 Although Dzogchen Beara is closed to visitors, our resident community gathers three times daily for prayers, especially for all those affected by COVID-19, who may be isolated, anxious or experiencing serious illness, and for all of those who are putting themselves at risk to care for others.
To make a donation to support these spiritual practices please click here.
Thank you!