News

Movement and Meditation – Online
"A retreat online is in some ways better than going off to a separate location. You have an immediate opportunity to relate your understandings with your everyday life." Feedback from a participant on a recent online retreat.
The feedback we're getting shows online events aren't just second-best alternatives but they offer distinct advantages of their own. For example it is easier to attend by connecting from home and this gives you the opportunity to directly integrate learning into everyday life. So if you're thinking about joining us online, be prepared to be pleasantly surprised by an inspiring new experience!
Online participants comment on the close connection they feel with the teachers and with other retreatants. To maintain this special atmosphere, registration on our online retreats is limited to the same number of participants as if the retreat was happening at Dzogchen Beara, so we recommend early booking to avoid disappointment.
Weekly Sessions
Time to Meditate – Free Guided Meditation Tuesdays 9:30am – 10:15am
Join us every Tuesday morning at 9:30am for a free 45 minute guided meditation with one of our experienced meditation instructors. Every session is suitable for all levels. You can sit on a chair or on a cushion on the floor, wherever you are comfortable and there are no difficult postures or complicated techniques.
Click here for information and registration
Weekend Retreats
"I was a bit hesitant about doing an online retreat but I can't praise it enough. I am grateful to have had the experience. This was my first retreat and I have really enjoyed it. The retreat was well structured, the speakers were great and the opportunity to speak with participants within the chatroom was so beneficial. I also loved the views and I hope in the future I will go to Dzogchen Beara. Thanks so much to all of you who made it possible." Feedback from a participant on a recent online retreat.
"It was lovely to be able to join this retreat although not being present in Ireland. I was surprised at how connected I felt to each and everyone of the participants and how strong the whole experience could be even if done through a screen and from my own apartment in Sweden. The technical parts worked fantastically well and it all felt very professional and well organised. I really enjoyed the variations between watching videos, having formal meditation exercises, talks, guidance and breakout groups as well as individual support. The presentation team all brought kindness, comfort and beautiful insights for me to benefit from. I left the retreat feeling inspired and joyful, ready to incorporate new habits into my daily life and having a lot to reflect upon. Thank you so much, it couldn't have been more beautiful." Feedback from a participant on a recent online retreat.
Kum Nye Tibetan Yoga this Autumn with Matt Padwick
Free taster class and 5 Week Courses
On Saturdays this Autumn you can experience the gentle power of Kum Nye Tibetan yoga with 3 events for you to join. These simple movement and breathing exercises of Kum Nye (Tibetan Yoga) help balance mind and body. Matt is offering a FREE introductory class called Feel the Difference on 5th September followed by 2 Five Week Courses: Movement4Meditation and Meditation4Life. Check out our events page here for more dates and details.
Click here for information and registration

The Practice Of Authentic Presence in a Changing World
Led by Dr. Ann Allegre, MD; Dr. Angela Anderson, MD; Kirsten DeLeo, author of Present Through The End; John Douglas; Youske Eto
Explore the healing power of presence in a professional capacity. This Intensive will offer space to experience and learn grounding compassion practices and meditation methods to stay resilient during this challenging time and to connect with a like-minded global community.
Click here for information and registration
Compassionate Listening Intensive with Rosamund Oliver
Transforming communication in relationships and communities
Resting in the heart of compassion we hold a truly safe container in which real communication can happen. This way of listening transforms our interactions to provide potential for deep healing in personal relationships and also within communities.
Click here for information and registration
Digital Well-being with Jonathan Garner and Steve Cope
Bringing awareness and intention to our digital habits
Even in our leisure time we often spend our day exchanging one device for another. Research shows that on average we spend more than 4 hours a day on our phone! What impact does this have on our mind? Where does all the time go? In this retreat we will explore meditation practice through the lens of our relationship with technology, taking the time to identify how technology can amplify what is important to you while still continuing the flow with your practice throughout the day.
Click here for information and registration
YouTube and Online Updates


Visit our YouTube channel to access a collection of guided meditations and contemplations including loving kindness, compassion, tonglen and essential phowa, led by our regular teachers including Andrew Warr, John Douglas and Kirsten DeLeo. Click here.

Follow us on Facebook to keep up-to-date with our growing programmme of weekly online events, including guided meditations and mini-retreats, and to keep informed as we add new content to YouTube. Updates also on Instagram.
Dzogchen Beara is glad to offer these videos and audios free to all: If you can support this offering with a donation, please do so here. 
Community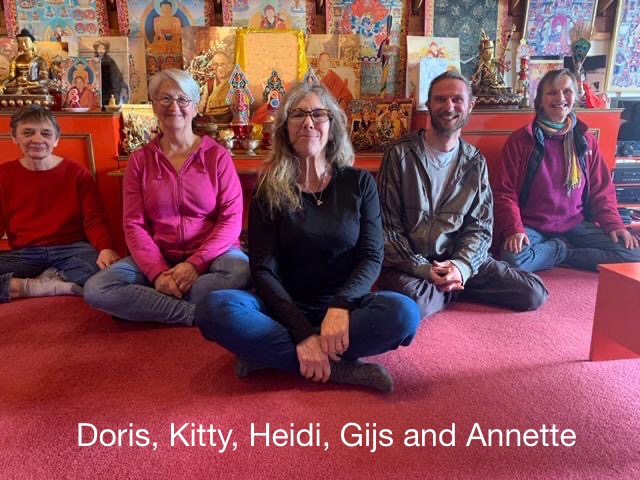 Although Dzogchen Beara is closed to visitors, our resident community gathers three times daily for prayers, especially for all those affected by COVID-19, who may be isolated, anxious or experiencing serious illness, and for all of those who are putting themselves at risk to care for others.
To make a donation to support these spiritual practices please click here.
Thank you!