News

Movement and Meditation – Online
"A retreat online is in some ways better than going off to a separate location. You have an immediate opportunity to relate your understandings with your everyday life." Feedback from a participant on a recent online retreat.
The feedback we're getting shows online events aren't just second-best alternatives but they offer distinct advantages of their own. For example it is easier to attend by connecting from home and this gives you the opportunity to directly integrate learning into everyday life. So if you're thinking about joining us online, be prepared to be pleasantly surprised by an inspiring new experience!
Online participants comment on the close connection they feel with the teachers and with other retreatants. To maintain this special atmosphere, registration on our online retreats is limited to the same number of participants as if the retreat was happening at Dzogchen Beara, so we recommend early booking to avoid disappointment.
Weekly Sessions
"Thank you for putting the Kum Nye classes online! I have been joining the classes since they started and have really felt the benefit of doing so. I feel more relaxed in myself, freer and more peaceful inside, more grounded! Your classes have enriched my life." Ann
Kum Nye Tibetan Yoga, with Matt Padwick: Wednesdays 10.30am-12pm
Ninety minute sessions suitable for all ages and fitness levels. Kum Nye's movement and breathing exercises restore the body's natural rhythms and calm the mind – making it a very effective gateway to meditation practice, and a great support as we integrate meditation in our daily lives. Everyone is welcome to attend any session.
Click here for information and registration
"I love the idea of online retreat. We live in a beautiful place and enjoyed having a retreat in our own home. I think it worked very well. Inputs gave the opportunity to use the material in our own space." Feedback from a participant on a recent online retreat.
Open Mind – Open Heart: Thursdays 10am – 12.30
Relaxed online sessions with experienced instructors introducing simple yet profound methods of meditation and contemplation, that can help bring ease, insight and inspiration into your life, to benefit yourself and others. Everyone is welcome to attend any session.
Click here for information and registration
Time to Meditate – Free Guided Meditation Tuesdays 9:30am – 10:15am
Join us every Tuesday morning at 9:30am for a free 45 minute guided meditation with one of our experienced meditation instructors. Every session is suitable for all levels. You can sit on a chair or on a cushion on the floor, wherever you are comfortable and there are no difficult postures or complicated techniques.
Click here for information and registration
Tuesday Evenings – Exploring Buddhist Wisdom Tuesdays 7pm – 8pm
Join us for a weekly one hour online session with experienced instructors to explore topics such as meditation, compassion, dealing with anxiety, death and dying and more. A different topic every week. Everyone is welcome to attend any session.
See upcoming topics here for information and registration
Weekend Retreats
"I was a bit hesitant about doing an online retreat but I can't praise it enough. I am grateful to have had the experience. This was my first retreat and I have really enjoyed it. The retreat was well structured, the speakers were great and the opportunity to speak with participants within the chatroom was so beneficial. I also loved the views and I hope in the future I will go to Dzogchen Beara. Thanks so much to all of you who made it possible." Feedback from a participant on a recent online retreat.
"It was lovely to be able to join this retreat although not being present in Ireland. I was surprised at how connected I felt to each and everyone of the participants and how strong the whole experience could be even if done through a screen and from my own apartment in Sweden. The technical parts worked fantastically well and it all felt very professional and well organised. I really enjoyed the variations between watching videos, having formal meditation exercises, talks, guidance and breakout groups as well as individual support. The presentation team all brought kindness, comfort and beautiful insights for me to benefit from. I left the retreat feeling inspired and joyful, ready to incorporate new habits into my daily life and having a lot to reflect upon. Thank you so much, it couldn't have been more beautiful." Feedback from a participant on a recent online retreat.
The Art of Living with Susan Browne and Oliver Riche
Saturday 25th and Sunday 26th July
We spend a lot of our lives distracted and running away from ourselves. We do this unconsciously and it leads to dissatisfaction and a feeling that there must be more to life. At present we find ourselves in a world that is changing so rapidly it leaves us with so much uncertainty. What is it that makes life meaningful? We will explore this during this very interactive weekend through different reflections and discussion. We will learn tools to develop resilience, cultivate peace and compassion through guided meditation practices, and will enter a process of discovery of what it means to live a fulfilling life.
Click here for information and registration
Medical QiGong with Tony Walsh
5 Week Online Course Mondays 10 August 11:30am – 12:30pm
Practiced in China by young and old alike for over one thousand years Medical Qigong is a complete healthcare system. Its gentle flowing movements, integrated breathing and meditative awareness invigorates our natural healing ability bringing an enhanced experience of well being and physical fitness. Mondays – June 15th, June 22nd, June 29th, July 6th, July 13th.
Click here for information and registration
Loving Heart with Andrew Warr, Veronica Nicholson and Derek Corr
Friday 14th to Sunday 16th August
Plus 4 one hour sessions Monday 17 to Thursday 20 August
In the uncertain times we face, many of us feel drawn to meditation practices which can relieve our anxieties and help restore some equilibrium to our lives. When we sense that the way we are relating to ourselves and to others is pivotal to our well-being, the classical Buddhist meditation for cultivating loving kindness can show us the way forward. Join us for a weekend of exploring loving kindness meditation.
Click here for information and registration
YouTube and Online Updates

Visit our YouTube channel to access a collection of guided meditations and contemplations including loving kindness, compassion, tonglen and essential phowa, led by our regular teachers including Andrew Warr, John Douglas and Kirsten DeLeo. Click here.

Follow us on Facebook to keep up-to-date with our growing programmme of weekly online events, including guided meditations and mini-retreats, and to keep informed as we add new content to YouTube. Updates also on Instagram.
Dzogchen Beara is glad to offer these videos and audios free to all: If you can support this offering with a donation, please do so here. 
Community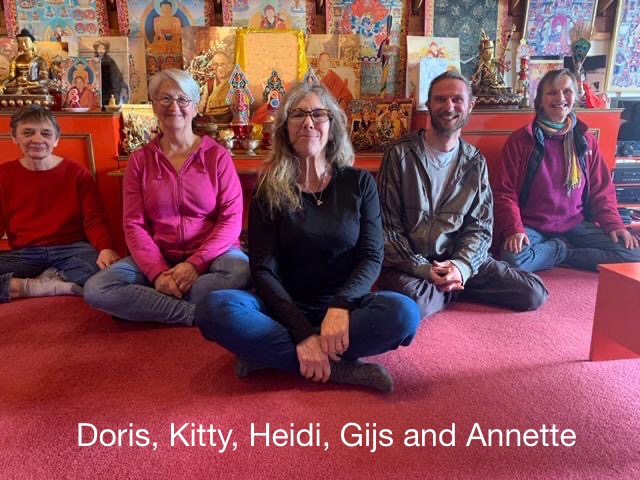 Although Dzogchen Beara is closed to visitors, our resident community gathers three times daily for prayers, especially for all those affected by COVID-19, who may be isolated, anxious or experiencing serious illness, and for all of those who are putting themselves at risk to care for others.
To make a donation to support these spiritual practices please click here.
Thank you!