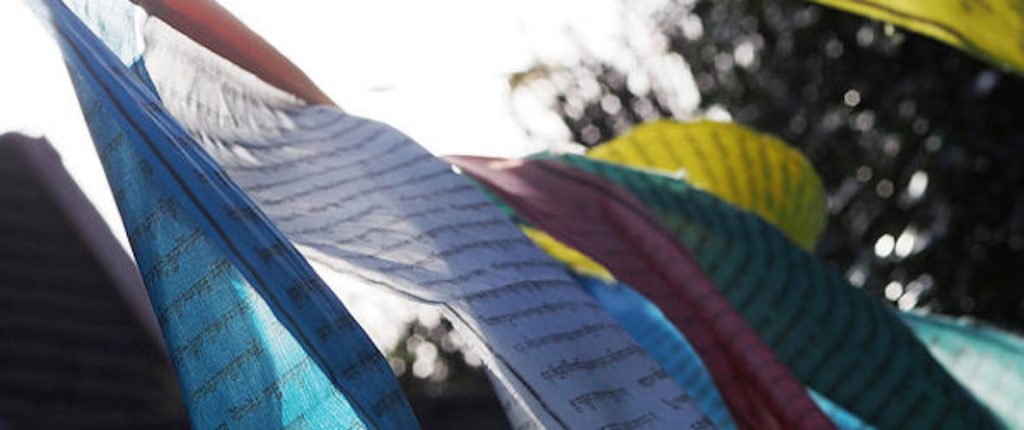 Tashi Delek! (Good luck!) for Fire Bird year from everyone at Dzogchen Beara!

On the occasion of Losar (Tibetan New Year, 26/02/2017), the Dzogchen Beara community warmly send you all of our good wishes for the year ahead!
Losar is the most important festival in the Tibetan calendar. 'Lo' means 'year' and 'sar' means 'new' and today marks the beginning of the Fire Bird year.
We hope that you will enjoy the renewal and awakening which is the special promise of this year – May you be well; May you be happy!
Sponsor Prayer Flags
We also invite you to help to create good circumstances for the year ahead, by making an offering towards the hanging of prayer flags at Dzogchen Beara.
Losar is said to be a particularly auspicious time to hang prayer flags, which are printed with sacred symbols and verses and are considered to transmit blessings of harmony, wisdom, health and abundance on the wind and across the universe.
Click here to sponsor prayer flags.
Many visitors to Dzogchen Beara are inspired by the array of flags around the centre and feel welcomed by the bright banners, in five colours representing the elements.
Your donation will support the purchase and hanging of prayer flags throughout the year; on hill-tops, roofs and beside the paths and roads.
As the flags fade and fray they are a reminder of impermanence, and as we hang new flags, we are reminded of the pervasive and transformative power of wisdom, compassion and positive intentions.
If you wish to make a personal dedication with your offering please specify this in the comment box on the donation page.