Building the Temple
Help to build Ireland's first Tibetan Buddhist Temple.
A Beacon of Wisdom and Compassion
The Dzogchen Beara Temple is being built in the style of a traditional Tibetan monastery with innovative features such as floor-to-ceiling windows that make the most of expansive ocean views. We hope we can open the Temple by summer 2024 which is also our 5oth anniversary.
This Temple will be a place for the study and practice of Tibetan Buddhism and in particular for the Dzogchen Longchen Nyingtik lineage. We will also host teachers from other wisdom traditions and extend an open-hearted welcome to all through a programme of public retreats and seminars.
The Temple is being built to a monumental standard to last for centuries. The roofs are made of copper alloy resistant to the salty air. The interior is being decorated and adorned to inspire a meditative experience when visitors enter the Temple.
The Buddhist teachings say that helping the building of a Temple in any way – which will help so many people find their way to peace and understanding – is one of the most spiritually meritorious acts we can do.
Every Temple donor's personal connection with this historic project is honoured by the inclusion of their name on a scroll which will be enshrined in the Temple when it is complete.
As of July we need €380,000 to open the Temple by summer 2024.
Can you help?
If you would like to make a donation to the Temple you can do so in your name, the name of a loved one, or of somebody who has passed away.

A Power Place
The Temple site and building has been blessed by many great Tibetan Buddhist Masters including Dodrupchen Rinpoche IV, HE Mindrolling Jetsun Khandro Rinpoche, Chokling Rinpoche, Tsoknyi Rinpoche, Dzigar Kongtrul Rinpoche, Khadro Tsering Chodron, Ringu Tulku Rinpoche, Garchen Rinpoche,  Mayum Tsering Wangmo and others.
Sogyal Rinpoche (our Spiritual Director at the time) invited Orgyen Tobgyal Rinpoche, a uniquely qualified Tibetan master, to advise on the temple design, location and orientation and the design was undertaken architect by Giles Oliver a student of Tibetan Buddhism since the 1970's.
In 2015 when at Dzogchen Beara to bless the site of the Temple. Orgyen Tobgyal Rinpoche said that, according to the ancient science of geomancy, this location at the south-western tip of Europe is a "power place" and building a temple here, at this specific time, will bring renewal and healing to Ireland as well as benefitting the whole world.
"If you build this temple here in Dzogchen Beara, and inside erect representations of the enlightened body, speech and mind, and have practitioners practise there, then this will be the cause for the teachings of the Buddha to remain for long and will have enormous benefit for the world at large; protecting against famine, against war and epidemics and so on."

Become a Temple Sponsor

Visit our Temple Shop to find out more about the Temple's sacred art and architecture and exquisite ornaments and to sponsor items if you wish or to purchase unique calligraphies by great Masters of Tibetan Buddhism.
All funds go to the Temple and every sponsors name is included on the honour scroll of donors to be enshrined in the Temple when it is complete. Join the Temple Sponsors here.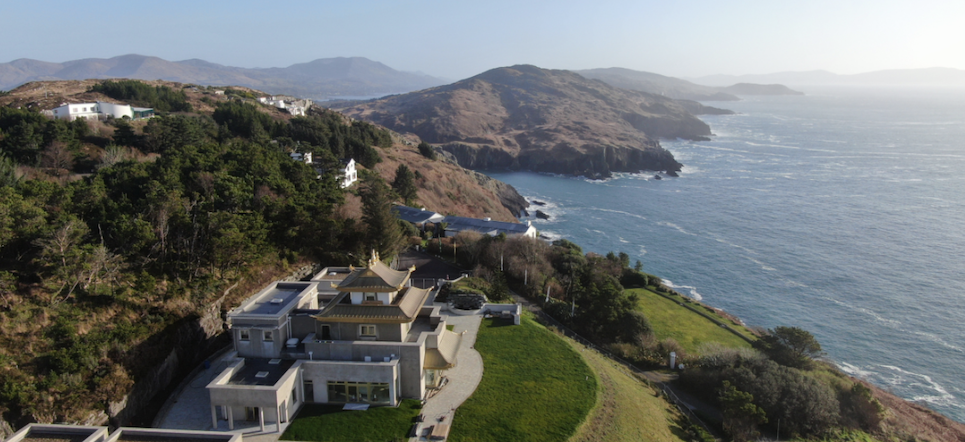 For enquiries please contact us.